15-Year-Old Boy, Samuel Onuoha Marries His 22-Year-Old Lover, Anurika John In Abia (Photos)
A story of a young boy who got married to a 22 years old girl has set the internet on fire.
A teenage boy, Samuel Abraham Onuoha, a 15-year-old boy has married his lover, 22-year-old Anurika John in Abia state. It was a dramatic moment when the wedding ceremony was held on Sunday 26 April 2020 in Amaiyi Igbere in Bende L.G.A of Abia State.
Samuel is the only son of his late father Mr Abraham Onuoha, who died in 2010. According to the mother, Mrs Peace Abraham, Samuel was born in 2005 after many years of marriage without a child.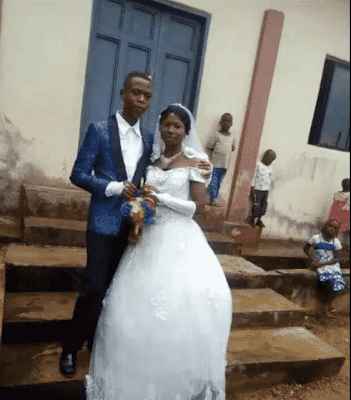 His mother also revealed in an interview that she was forced to accept the marriage due to the condition of her husband's family.
The minister Rev. Okoro Ogbu of the Assemblies of God Church, who officiated the wedding ceremony, advised the couple not to be amazed by the way of the marriage especially the age in which Samuel has decided to get married.
My question is if age does not factor in marriage, is this young boy matured enough emotionally, psychologically and financially to handle his family?
Please share your opinion in the comment box below.